Upcoming Events
Event Details
Loading content...
Confirmation Needed
Loading content...
Welcome!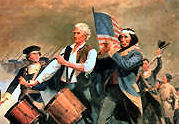 Welcome to AmericanHistoryCalendar.com. This site is devoted to showing American history in a unique way: through a user-friendly calendar. With this site you can browse and search birthdays of people and events in American history. You can also download an event or an entire calendar to your phone or computer with an iCalendar compatible app. Also, please visit and/or like our Facebook page, which posts upcoming historical events on the page.
Thanks for visiting!
Subscribe or Download: What's the difference?
You can easily download or subscribe to birthdays and events from AmericanHistoryCalendar.com to your computer or Google calendar. What's the difference? Downloading the calendar is a one-time shot. All the events are downloaded but you will not get updates to the calendar if additions or changes are made. Subscribing to a calendar gives you all the events plus your calendar program will periodically check for calendar updates. Not all calendar programs support both options. Follow the directions below for the appropriate calendar program you are using.